The "FederItaly 100% Made in Italy" Brand Revolutionizes Product Authentication and Ensures Transparency
FederItaly, in collaboration with the DFINITY Foundation and the Origyn Foundation, has introduced the "FederItaly 100% Made in Italy" brand, an innovative blockchain-based certification system designed to restore consumer trust in Italian-made products. The market is currently facing challenges caused by the presence of products that are Italian in appearance but are not genuinely Italian. The focus of this initiative is on prioritizing quality, creativity, ethical practices, and excellence in production, with the ultimate goal of safeguarding Italy's national identity and enhancing consumer confidence.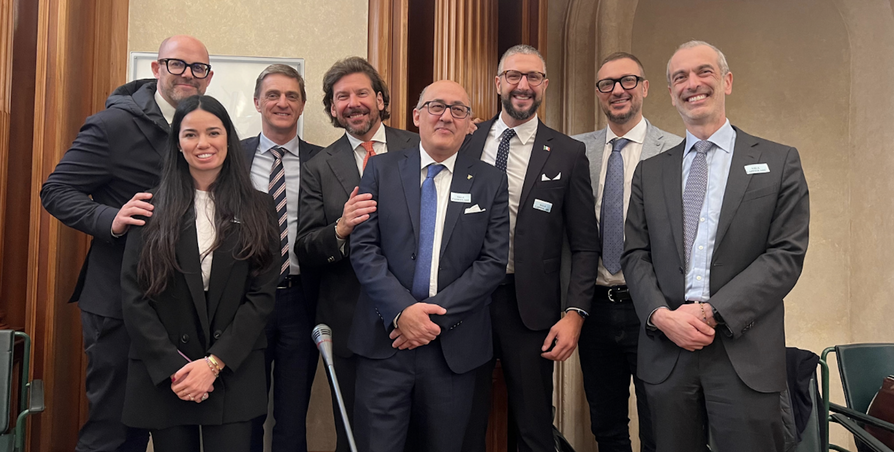 FederItaly, DFINITY, and Origyn at the Italian Senate presenting the Certificate
The FederItaly 100% Made in Italy brand marks a significant stride toward transparency and authenticity in the Italian market.
FederItaly combats the phenomenon of Italian sounding, which has tarnished Italy's image and economy worldwide. Centered around three main pillars – protection, trust, and promotion – the organization protects the values and expressions of Italian culture and national identity. By providing a reliable method for verifying the authenticity of Italian products, FederItaly will lead a resurgence of customer confidence in Italian-made goods.
Blockchain and Technical Partners
Blockchain technology stands out as one of the most significant digital technological advancements in the last ten years. The Internet Computer Protocol (ICP) is a revolutionary project in this field. ICP uses a network of independent (and fully decentralized) nodes to provide enhanced security and privacy for users.
ORIGYN is a non-profit foundation that supplies digital certificates to verify the authenticity of Made in Italy products. It uses the ICP protocol to create an unbreakable connection between physical assets and digital certificates. This digital certification technology is highly scalable and tamper-proof, ensuring that all information recorded is immutable and indisputable. ORIGYN's verification methodology, which utilizes intelligent and decentralized solutions to identify, authenticate, and preserve the properties of a range of assets, establishes a universal standard for global certification.
Innovation Through Certification
The certification process requires companies to comply with Italian Law 166 of 2009 art.16 . It involves a pre-analysis phase, a documentary analysis phase, an audit, and a certificate issuance. This information is then securely stored on the ICP blockchain, inside of a Canister, which acts as a virtual "smart contract." Consumers can scan the QR code on the certificate to access a decentralized website that retrieves information about the certificate from the Canister.
Follow the link or scan the QR Code in the image below to check the certificate issued on the ICP Blockchain.
The certificate is not just a validation of authenticity but also a gateway to an interactive and immersive brand experience, thanks to the Experience Page.
Picture this: A consumer picks up an Italian product that has been certified, with the QR Code associated with the certificate printed on its label. When he/she scans the QR code, they're instantly transported into the heart of the company's story, exploring the passion and craftsmanship behind every creation. This is what the Experience Page offers: a chance for businesses to captivate and inspire their audience like never before.
Think of it as a digital showroom, where companies can exhibit their finest work through a rich tapestry of multimedia content. Videos showcasing the intricate artistry of their craftsmanship, images capturing the essence of their brand, PDFs detailing their sustainability initiatives, and brochures featuring their latest collections – they are all accessible with a single scan.
The Experience Page serves as more than a simple medium for content sharing, it functions as a stage for companies to reveal their true essence – to demonstrate their genuine identity and build significant bonds with their customers. It provides an unprecedented opportunity for businesses to leverage the power of storytelling to produce brand experiences that are both unforgettable and captivating.
What's Next?
FederItaly's roadmap also includes the development of an innovative decentralized e-commerce platform, designed to empower small, micro, and medium-sized enterprises (SMMEs) and enable them to compete with larger competitors. By offering direct sales to customers, reducing operational costs, and increasing profit margins, this platform will create an equitable e-commerce space, where customers can trust the products they buy, and SMMEs have the chance to fairly monetize their goods and services.
Imagine a scenario where you're at a restaurant, and on the table is an exquisite bottle of extra virgin olive oil that you'd love to have at home for your culinary creations. Until now, your only option was to ask the restaurant owner where they purchased the bottle or if they could sell you one.
But with this innovative platform, that's all about to change: now envision a certified product with a QR code that, when scanned, redirects you not only to the Certificate Page but also to a decentralized marketplace where you can order that very bottle and have it delivered to your doorstep.
Empowering the Future of e-Commerce
The introduction of this e-commerce platform in FederItaly's roadmap marks a significant step towards a more decentralized and empowering e-commerce future. By promoting high-quality producers and companies that may have been overlooked by larger corporations, this platform gives them a voice and a chance to showcase their products to a wider audience. Emphasizing quality and standards, SMMEs can differentiate themselves from competitors and attract a loyal customer base.
This revolutionary decentralized e-commerce platform holds the key to a new era of consumer empowerment and confidence in the marketplace. By providing a trustworthy method for purchasing certified quality products, the platform paves the way for a future that promotes and preserves the richness and diversity of the global market, one exceptional product at a time.